Looking for Healthy Pizza Near You? We've got options!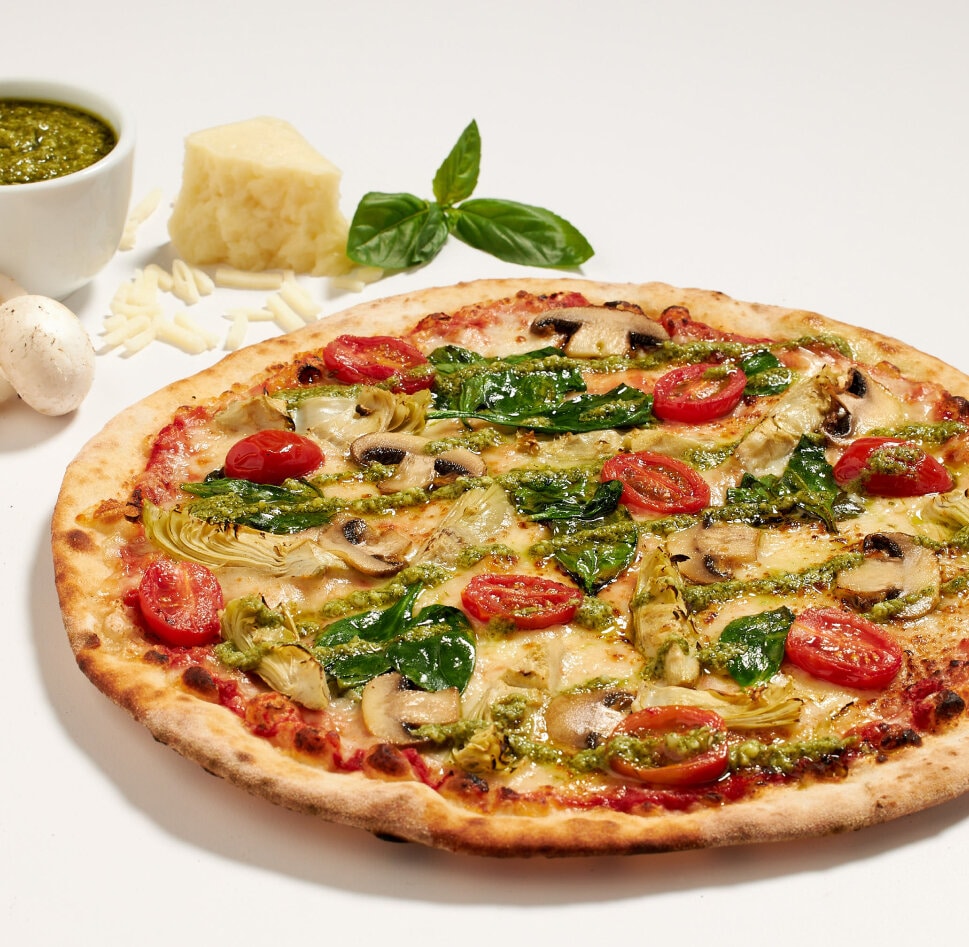 Pieology makes finding healthy pizza near you easy and fun.
As the New Year begins, many of us are looking for ways to improve our diet and eat healthier.  If pizza is one of your favorite foods, you don't have to give it up! Here are five delicious and healthier pizza options from Pieology that you can enjoy without ruining your diet plan.
The Veggie Pizza: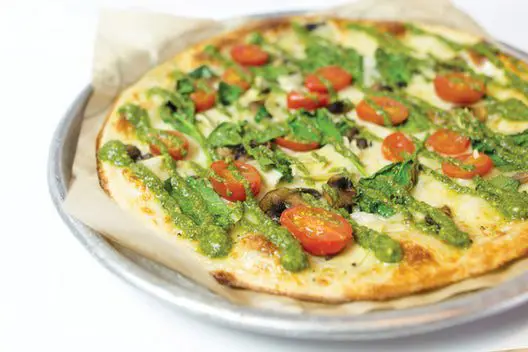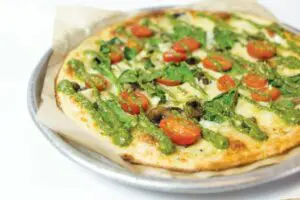 Eating vegetarian is as easy at Pieology. Simply grab any one of our four signature crusts, any one of our six delicious sauces, add cheese and any veggie toppings. We even have plant-based meats for those who aren't ready to give up the sausage just yet. Our signature veggie pizza is the Pesto Veggie which is made with our delicious tree-nut free pesto.  Don't be confined to the same old veggie pizza recipes.  Choose exactly what you want on your pizza and create a veggie masterpiece at Pieology.
Try it at Pieology- Order a Custom Pizza with:  Original Thin Crust, Olive Oil, Red Sauce, Mozzarella Cheese, Green Peppers, Onions, Olives, Cherry Tomatoes, Mushrooms, Crushed Garlic and Oregano'
The Gluten-Free Pizza: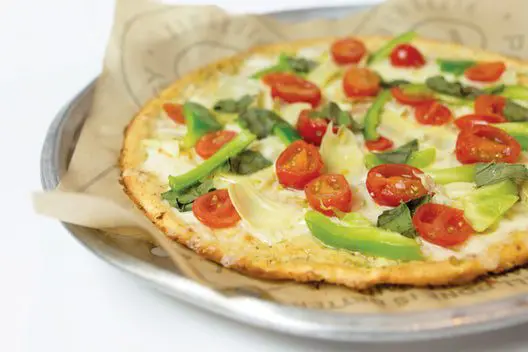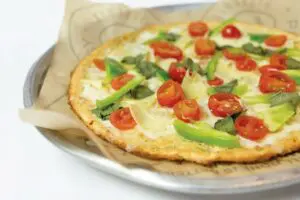 Pieology makes it easy to eat when you are gluten-sensitive!   We have two gluten-free crusts, and dozens of topping and sauce options.  In fact, the only toppings on the line that contain gluten are meatballs, plant-based proteins, alfredo sauce and croutons.  Our team is very aware of how important keeping the gluten away from our gluten-free guests is. For instance, you can ask for a glove change (for allergens) and we always use a dedicated gluten-free pizza cutter. We can't guarantee our kitchen is free of cross contamination because we do make our regular dough in house, but for the gluten-sensitive person, you'll find unlimited possibilities for gluten-free goodness at Pieology.
Try it at Pieology- Order a Gluten-Free Custom Pizza with:  Cauliflower Crust, Olive Oil, BBQ Sauce, Mozzarella Cheese, Gorgonzola Cheese, All-Natural Chicken, Red Onions, Cilantro
The Protein-Packed Pizza: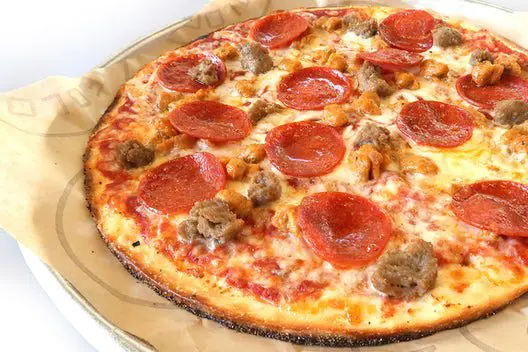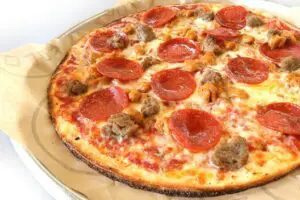 Feeling like you need a little more protein in your life? No problem! A Protein-Packed pizza is just what you're looking for. At Pieology, you can put as many protein toppings on your pizza as you want. Don't be afraid to double the protein and pack it full of delicious toppings like pepperoni, sausage, and bacon.
Try it at Pieology- Order a Custom Pizza with:  Original Thin Crust, Garlic-Herb Butter, House made Red Sauce, Mozzarella, All-Natural Chicken, Bacon, Pepperoni for 44g of protein, or get it on Pie-Rise Thick Crust for 56g of protein
The Lower-Calorie Pizza Option: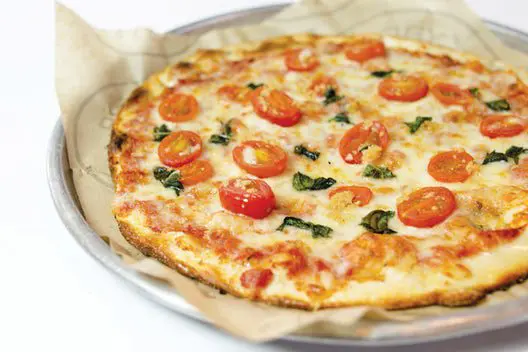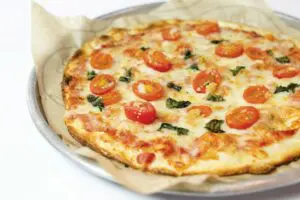 When you're looking for a pizza that's lower in calories, we've got you covered. Try our Margherita or Simple Cheese pies for a delicious and satisfying meal with less calories. Want to stay under 700 calories for an entire pie? Start with our gluten-free crust, add red sauce, mozzarella, pepperoni or sausage, 2 veggies, and you'll have a satisfying meal that doesn't break the calorie bank.  Use our nutritional calculator to keep track of the calories on your pizza while you make it.
Try it at Pieology- Order a Custom Pizza with:  Gluten-free Crust, House made Red Sauce, Mozzarella, Banana Peppers, Black Olives, Cherry Tomatoes Green Peppers, Sausage for 700 Calories total
The Vegan Pizza: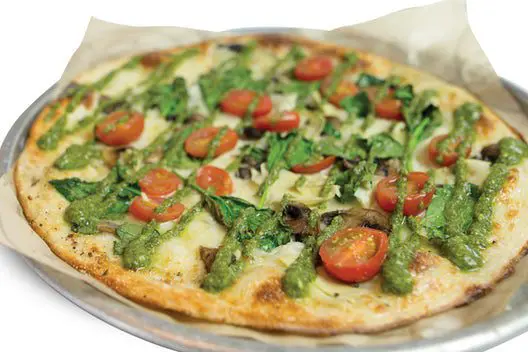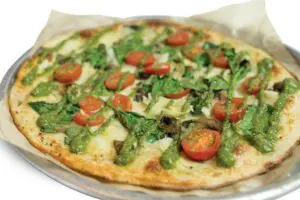 Avoiding meat and dairy? No problem…Our vegan pizza options taste great. For those who are vegan or just add more plant-based items to their diet, we offer an array of plant-based toppings and "meats", along with Daiya Vegan cheese. We have so many great vegan options, you'll never feel left out of the pizza party again.  Create your own custom vegan pizza online at pieology.com and top your pizza with veggies to your heart's delight!
Try it at Pieology- Order a Vegan Custom Pizza with:  Gluten-free Crust, House made Red Sauce, Daiya Vegan Mozzarella Cheese, Tomatoes, Artichokes, Black Olives, Plant-based Vegan "Sausage"
Pieology's Custom Pizza Options Make It Easier to Eat The Way You Want To
The next time you're feeling pizza cravings, don't worry – Pieology has you covered.  From our crusts, to the toppings, to the sauces, we have unlimited possibilities.  You can build your pizza in our nutritional calculator so you can know all the ingredients, allergens and how many calories are in your pizza.   With all our options, you're sure to find a way to create a pizza that fits your taste and your diet
Not sure where to start? Check out our Lifestyle Pizza options on our menu including our Gluten-Free Custom Pizza, Vegan Custom Pizza, and Dairy-Free Custom Pizza. When you order pizza online at pieology.com, it allows you the freedom to choose.
Building a pizza is easy.  First, you select your crust, then you choose your sauce.  After that, add the cheese and toppings you want.  Finally, add an afterbake or shake on.  Enjoy pizza while feeling confident you're eating according to your diet because you get to choose exactly what you want on it.
Stop by your local Pieology today and enjoy a healthier pizza that doesn't sacrifice taste! Happy New Year from Pieology! We hope you enjoy our delicious and healthier pizza options this year. Cheers!