Celebrate National Cookie Day at Pieology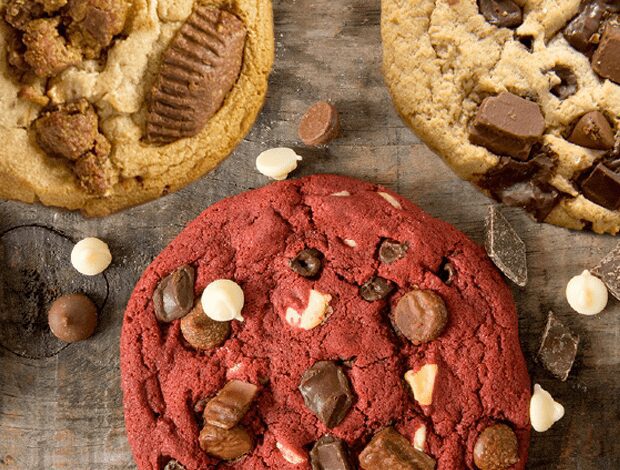 Red Velvet Cookies return just in time to celebrate the sweetest holiday of the year!
National Cookie Day is December 4th!  The most popular cookie flavors in America are chocolate chip, sugar, and peanut butter. These three flavors account for over 50% of all cookie sales in the United States. In recent years, there has been a growing trend of unique and specialty cookie flavors, such as red velvet, pumpkin spice, and chai latte. However, the classic flavors still reign supreme. Whether you're a fan of the classics or are looking to try something new, National Cookie Day is the perfect excuse to indulge in your favorite flavor!
Why Pizza and Cookies make a great combination….
There are endless possibilities for what kind of cookies you can make.  There are also endless possibilities for what kind of pizza you can create, making them a great combination. The sweetness of the cookie balances out the savory flavors of the pizza.  Both dishes are easy to customize to your liking.
A sweet deal at Pieology on National Cookie Day!
If Red Velvet is your favorite flavor, it's time to celebrate National Cookie Day with the return of Red Velvet Cookies at Pieology! On Saturday, December 4- Sunday December 5, guests can enjoy any 2 Cookies for just $4 when placing their order in-restaurant, via the Pieology app or online at pieology.com*. Top off your perfect pizza meal with a David's Cookies freshly baked Red Velvet Cookie.  Our unique recipe is made with white chocolate chips, Hershey's milk chocolate, semi sweet chocolate chunks, and milk chocolate chunks.
Not near a Pieology? We can't give away our secret cookie recipe, but here's one from the New York Times you might enjoy making at home.
About Pieology: Pieology Pizzeria is a place where you can enjoy unlimited possibilities with four crusts and over 40 sauces and toppings! Find a location, or learn more about Pieology.
*not valid in Hawaii or Guam